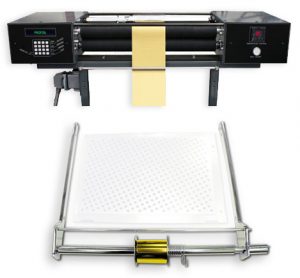 We specialise in converting original Heidelberg press equipment into hot foil stamping presses. The process is quick and easy and can be carried out when it's convenient for you.
Our innovative Foil Expert is a unique foil pull drive that integrates neatly onto the original press design thus converting the original press into a foiling press. We have an option for both a cylinder and a platen press.
A wide range of other upgrades and conversions are available for hot foil stamping equipment, such as:
Foil Expert – for the conversion of an original press into a hot foiling press
Hologram Expert – to add an additional hologram feature to your foiling machine
Heated beds – honeycomb heater beds made from aluminium and ground to high tolerances
Foil optimiser upgrade – reduce foil wastage by programming foil pulls
Foil unwind kits – also known as a foil tension kit, controls foil tension
Delivery chains
Electrical upgrades
Plus much more
Call us for a no obligation quotation on +44 (0)1473 707223.