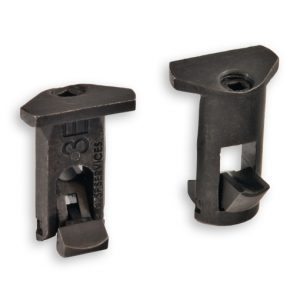 We have a history of manufacturing our own parts and consumables. One of the key consumables used in hot foiling is toggle hooks, otherwise known as toggle clips or die fixings. Toggle hooks are an alternative method to attach foiling blocks to embossing or heater plates over the traditional use of bunter posts. The process of positioning your blocks in place is much faster with toggles but requires the use of a honeycomb design plate.
SF Services is proud to introduce our own Toggle-Hooks and Bunter Post Fixings. We have engineered these consumables to be of high quality and strength generated through use of German steel and additional heat strengthening processors during manufacture.
Both can be purchased through SF Services, both standard and low profile sizes are available to cater for varying plate depths of 14.5mm to 20mm.